We are your Lexus dealer near Coral Gables
Located just a quick drive north on US1 from Lexus of Kendall resides the beautiful city of Coral Gables. A historic city with gorgeous tree-lined streets and nice houses to match, Coral Gables is centrally located in Miami with quick access to downtown and the airport. Home to the University of Miami, many college students reside in the southern parts of Coral Gables located near Merrick Park.
Though Coral Gables is near public transportation such as the Metrorail and Gables trolley, there's nothing like owning your own car. If you're looking for a brand new Lexus, Lexus of Kendall is the closest Lexus dealer to Coral Gables. Our team of experts are ready to help you find the luxury car you're looking for!
New Lexus near Coral Gables
Whether you're looking for a new Lexus RX or the newly redesigned Lexus IS, Lexus of Kendall has it all! Visit our luxurious showroom and view our complete inventory of new Lexus vehicles. Coral Gables car shoppers want the right car at the right price, and a Lexus is a perfect fit. With some of the best resale value in the market, a Lexus is not only a great deal but also an excellent investment.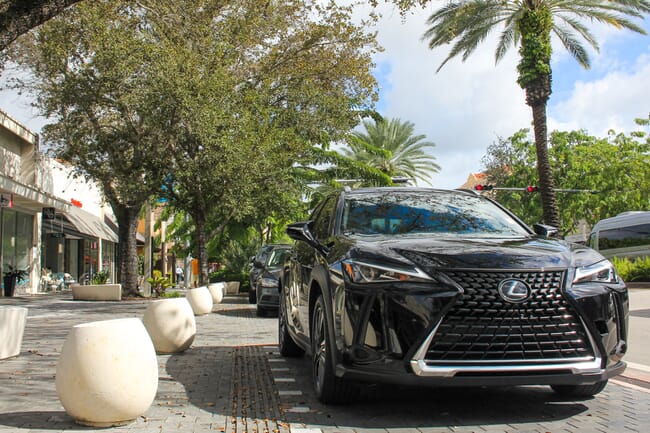 Pre-Owned and L/Certified Pre-Owned Cars near Coral Gables
Aside from Lexus vehicles, Lexus of Kendall has hundreds of used cars from many different makes, including other luxury brands. Looking for a used Mercedes or BMW at an affordable price? We have them! However if you're looking for a used Lexus, check out our collection of L/certified pre-owned vehicles. Each of our L/certified pre-owned vehicles goes through a comprehensive inspection in order to ensure the highest quality. On top of that, all L/certified pre-owned vehicles come with an unlimited-mileage vehicle warranty and includes factory-recommended maintenance for two years or 20,000 miles. Coral Gables drivers know the importance of having warranty with their used cars, that's why an L/certified pre-owned vehicle would be an excellent choice.
Test Drive the Car of your Choice
You've already chosen the car you'd like, now it's time for a test drive. The only way you'll know if you like the car is by taking a closer look in person, and it's much easier than you'd think. Contact us online or by phone and schedule an appointment. Once your appointment is scheduled, visit our dealership near Coral Gables and meet with your salesperson. From there, they'll take care of everything and bring the car (or cars) you'd like to test drive. Easy peasy!
Service near Coral Gables
Finding the right service department for your vehicle is crucial when it comes to maintenance, that's why the Lexus of Kendall service department is an excellent choice for Coral Gables car owners. From the moment you drive into our service bay, rest assured you're in great hands. Our team of certified technicians take pride in their work and will make sure your car is well taken care of. While our team is working on your car, relax in our service oasis and get some work done in our business center. Be sure to follow your vehicle's maintenance schedule to ensure the safety and longevity of your vehicle.
Lexus of Kendall is proud to serve Coral Gables and all of South Florida.